Contact Shaylor's Ponds & Patios for All of Your Landscaping Needs
Ponds are our specialty! Contact Shaylor's Ponds & Patios for all of your landscaping, hardscaping, and waterscaping needs including:
We Specialize in Pond Installation and Maintenance
Designing and installing beautiful realistic all-natural backyard ponds is our specialty. We are a pro-certified CAC Aquascape installation contractor. Our ponds have been installed in zoos throughout the country, as well as in the backyards of homeowners throughout our service area. When quality and exceptional craftsmanship count, Shaylor's Ponds & Patios is here to serve your pond installation and maintenance needs with complete dedication to excellence.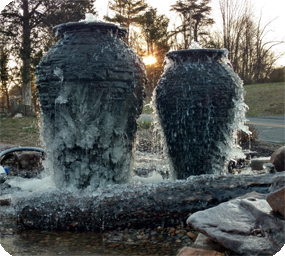 Shaylor's Ponds & Patios Corporate Office & Display Gardens
Are you interested in learning more about having a durable natural-looking pond seamlessly built within your property? Would you like to request a general estimate for a repair or upgrade toyour existing pond? Please fill out the form below and describe your pond installation or pond repair/ upgrade needs. Please include 3 photos from various angles clearly showing your yard (for new installations), your existing pond (for upgrade requests), or the problem with your current pond (for repair requests). Be sure to describe the problem in detail. A representative from Shaylor's Ponds & Patios will contact you as soon as possible to provide you with an estimate or schedule a consultation with you to further discuss your pond.
Contact Chad Shaylor of Shaylor's Ponds & Patios to learn more about our fine quality pond and waterscape installation and maintenance services, hardscape design and installation, and year-round landscaping services. Call:
(570) 419-1518.
Request an estimate or more information from Shaylor's Ponds & Patios