Enhace Your Lewisburg Property With a Beautiful Natural Pond
Shaylor's Ponds & Patios specializes in adding the perfect distinguishing natural-looking ponds to bring out the absolute best features of your property while enhancing the overall sense of comfort of your home. We have been working to help our customers dramatically improve the rejuvenating atmosphere of their homes and businesses in Lewisburg, PA for over twelve years now. We are proud to be the region's preferred pond installation contractor for those who truly care about the upkeep and aesthetic appeal of their property.
Exquisite Ponds, Fountains, Driveways, and Patios in Lewisburg
At Shaylor's Ponds & Patios, ponds are are absolute passion. There is nothing that we enjoy more than to see your reaction when we reveal your gorgeous new pond installation. In addition, we offer a variety of exquisite installation and maintenance services for our customers in Lewisburg, including complete customization of a variety of landscaping, hardscaping, and waterscaping features to accent your pond installation and create your ideal backyard escape. Some of our most popular services and installations in Lewisburg include:
Pondless Waterfalls
Fountains
Fountainscapes
Pond & Pondless Waterfall Maintenance
Driveways
Walkways
Courtyards
Retaining Walls
Raised Patios
Fences, Borders, & Edging
Patio Sealing
Repair & Maintenance
Design & Installation
Mulching
Seasonal & Year-Round Cleanup
Mowing
Hedge Trimming
Landscape Maintenance
Reliable Commercial Landscaping for Lewisburg
To complement our pond installation service, Shaylor's Ponds & Patios also serves the year-round landscape maintenance needs of our commercial customers in and around the Lewisburg area. We can install all of our landscape accent features including retaining walls, fountains, waterfalls, and raised patios for restaurants, medical facilities, and other businesses. In addition, we also provide regular and contracted property maintenance services to ensure that your commercial property always looks its best and attracts the right type of customers to your establishment.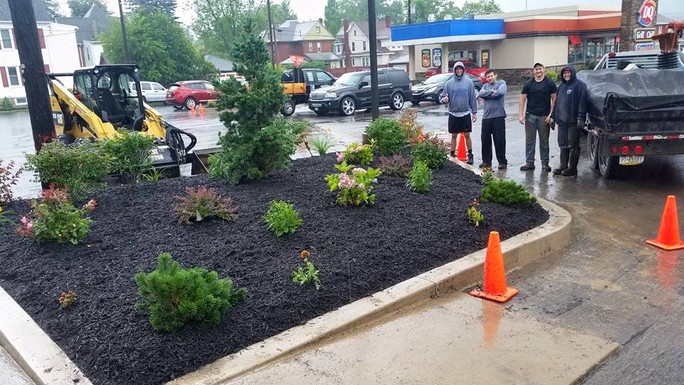 Natural Looking Custom Pond Installation in Lewisburg
We specialize in designing the most natural looking custom pond installations available in Lewisburg. Our commitment to creating ecologically viable ponds is based in our concern for the authenticity of the appearance of your waterscape, your enjoyment of the pond, as well as the suitability of your water feature to host fish, amphibians, and native plants that are vital components of our shared ecosystem. The enjoyment that you and your guests receive from the presence of your water feature are magnified immensely from observing the beautiful elegant sway and sashay of the fish, the tender peeping of frogs and toads, and the exquisite grandeur and extravagance of having a fully native pond ecosystem right in your backyard. With all that we take away from nature, it is a wonderful feeling to welcome a small part of nature back into our living environment. Let us help you custom design your new pond installation according to your goals for your property and your lifestyle.
Contact Chad Shaylor of Shaylor's Ponds & Patios to schedule a consultation or to set up an installation. Call:
(570) 419-1518
or visit our display gardens at 959 Dunkleberger Road in Williamsport, PA to see the waterscapes in action, as well as examples of how we can improve the appearance and functionality of your property with a new raised patio, courtyard, retaining wall, and other exciting hardscape projects to enhance your landscape.