Pond Installation Contractor in Lock Haven
Shaylor's Ponds & Patios of Williamsport, PA proudly serves residents and businesses of Lock Haven and the surrounding region with the installation of beautiful ponds and other property accents. We want to be your preferred contractor for quality in-ground ponds, as well as landscaping and architectural design elements to enhance the curb appeal of your property. Let us help you enhance the physical and mental well being of your family and guests. Allow us to create a retreat for you that you will not want to leave. There is no better feeling than coming home to the most relaxing water environment right in the comfort of your own backyard. When it's time to improve your property with an attractive pond or waterscape, choose Lock Haven's dedicated pond installer: Shaylor's Ponds & Patios!
Superior Water Gardens, Ponds, Walls, Walkways, and Patios
Some of our most popular aesthetically superior installations and maintenance services have included:
Fountainscapes & Fountains
Pondless Waterfalls
Water Gardens
Pond & Pondless Waterfall Maintenance
Bricks, Pavers, & Stone
Raised Entertainment Patios
Walls of All Types
Garden Enclosures
Walkways
Patio Seating
Repair & Maintenance
Design & Installation
Mulching
Seasonal & Year-Round Cleanup
Hedge Trimming
Mowing
Landscape Maintenance
We also install custom features to meet your needs, as well. We are happy to consult with you at your Lock Haven location to get an idea of what your dream backyard waterscape or landscape accent design is and we will work closely with you to build the perfect relaxation spot or entertaining venue for your family and friends.
Ponds and Waterscapes Increase Property Value and Aesthetic Appeal
Aside from the obvious increase in property value and aesthetic appeal, there are many additional benefits to having a professional pond or waterscape installed on your property in Lock Haven. Pond installation is our specialty and we design and install amazing natural-looking ponds in a wide variety of sizes and shapes and can add fountains and waterfalls to increase your pond's appeal, as well.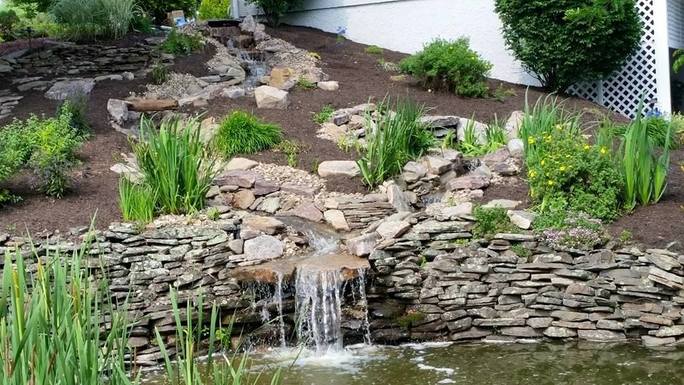 Running water refreshes your mood, invigorates your senses, and improves your mood. Many homeowners decide to install a fountain or waterfall to enjoy the pleasant scent, relaxing sounds, and enjoyable atmosphere for relaxing and entertaining guests. We can install a variety of features to customize your water or fountainscape including colored and accent lighting to further add to the dramatic appeal of your waterscape. Many of our pond customers also decide to further customize their ponds with koi and plants, as well. The design possibilities are endless.
Custom Patios and Hardscapes in Lock Haven
Homeowners in Lock Haven have been enjoying their custom pond and hardscape installations by Shaylor's Ponds & Patios for over twelve years now and we want to help you achieve your goals, as well. In addition to our attractive ponds, we offer an extensive selection of the world's highest grade bricks, blocks, pavers, and more to install amazingly attractive retaining walls, courtyards, walkways, raised patios, terraces, and much more. We can offer suggestions based on the layout of your existing landscape design or will work with you to design and install a custom hardscape to meet all of your needs for entertaining guests or relaxing during your free time.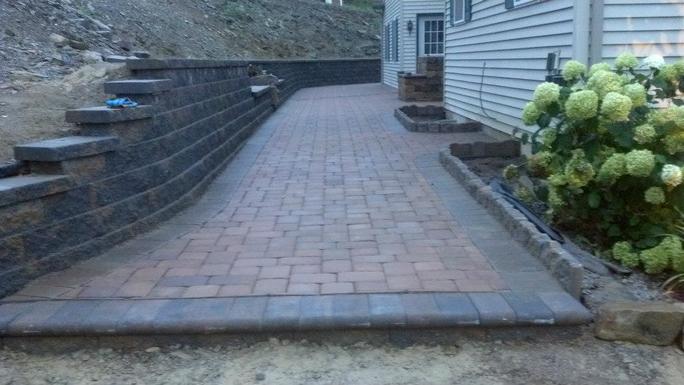 Shaylor's Ponds & Patios offers the highest quality pond, fountain, and waterfall installation and maintenance services, retaining wall, courtyard, and other custom hardscape design and installations, as well as year-round landscaping services. Stop in to our display gardens at 959 Dunkleberger Road in Williamsport, PA to see our model installations. Bring your design ideas or consult with our master landscape designers. Call:
(570) 419-1518.