Quality Pond Installation in Williamsport
Shaylor's Ponds & Patios of Williamsport, PA specializes in installing attractive natural ponds for our valued customers in the Williamsport, PA region. Although we enjoy all aspects of enhancing the beauty of your property, ponds are our passion! Nothing pleases us more than working with water to create stunning, attractive waterscapes to delight the senses and appeal to your sense of peace and enjoyment of your property.
We also serve the landscaping, hardscaping, and waterscaping needs of our valued customers in Williamsport and the surrounding vicinities. We are the region's most dedicated installers of a wide variety of premium quality landscaping features that will enhance your life quality as well as the curb appeal of your home or business. We have been serving your friends, family, and neighbors throughout the region for over 12 years now and are committed to providing you with the exceptional installation and maintenance services that you need to relax or entertain in style with beautiful installations that you will be proud of.
Ponds, Patios, and Architectural Landscaping in Williamsport
Floating Fountains
Pondless Waterfalls
Pond & Pondless Waterfall Maintenance
Pavers & Walkways
Raised Patio
Walls (Decorative, Retaining, & Terraces)
Patio Sealing
Repair & Maintenance
Design & Installation
Mowing
Hedge Trimming
Mulching
Seasonal & Year-Round Cleanup
Commercial Snow Removal & Salting
Landscape Maintenance
Buy Strong Pond Installation Kits and Replacement Parts
In addition, we operate a convenient
online store
where you may purchase heavy duty do it yourself pond and waterfall installation kits, as well as buy routine maintenance, replacement, and strong repair parts for your pond, waterfall, or waterscape installation.
Pond Maintenance and Fish Care Blog
To learn more about the routine maintenance and care of your Williamsport pond, waterscape, and fish inhabitants, please view our
blog
for essential information and fascinating reading material to help you learn how to get the most from your pond, fountain, or waterfall installation project. You may also submit helpful information and informative articles that will benefit our pond and waterscaping community, as well.
Quality Ponds and Landscaping in Williamsport, PA
We take great pride in installing quality ponds and architectural landscaping features in Williamsport and the surrounding region. From the materials that we use to the craftsmanship involved in our installations, we guarantee that what you will receive is a quality pond, hardscape, masonry, waterscape, or landscaping design element that will endure and grow with character over the years to give your property a unique appeal and a relaxing ambience.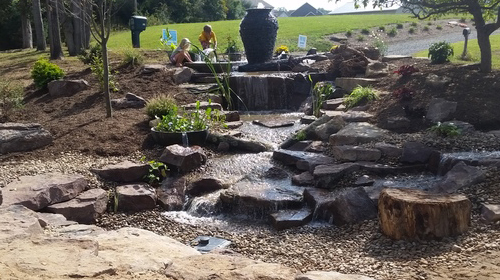 Contact landscape aesthetician Chad Shaylor of Shaylor's Ponds & Patios to learn more about our fine quality pond and waterscape installation and maintenance services, hardscape design and installation, and year-round landscaping services. We maintain model displays to assist you with understanding the scope of how we can dramatically increase the aesthetics and functionality of your property. Stop in to see us at 959 Dunkleberger Road in Williamsport, PA and view our model ponds, waterscapes, hardscapes, gardens, and more. We guarantee that you will find the perfect addition to turn your backyard into the inviting escape that you've always wanted. Call:
(570) 419-1518.