Quality Hardscape Design and Installation Contractor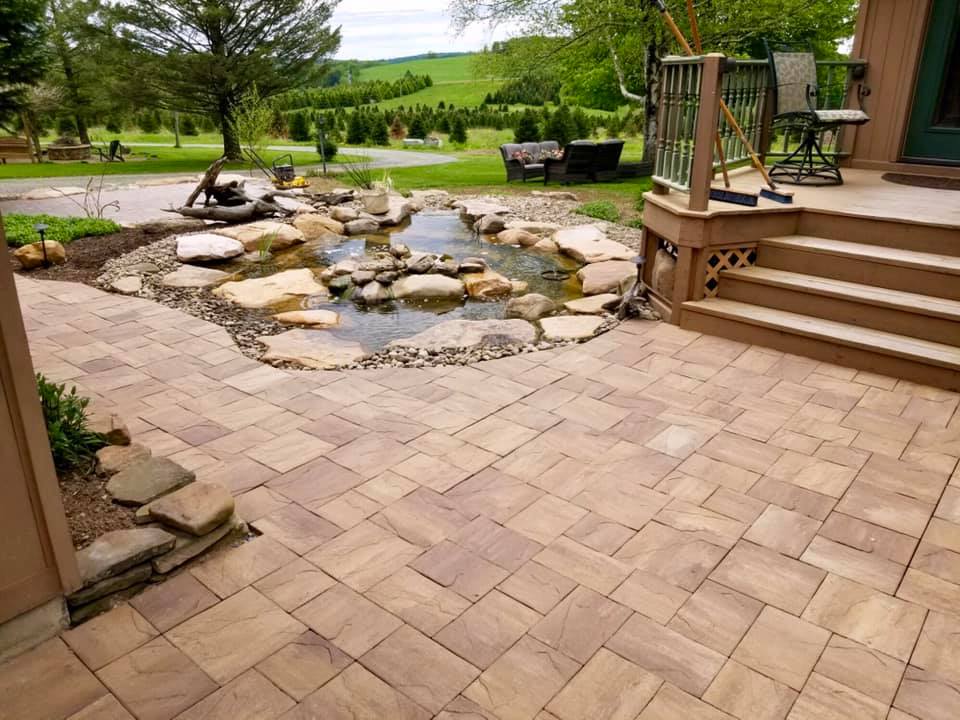 Shaylor's Ponds & Patios is your dedicated locally based hardscape design and installation contractor. We create exquisite high-end structures that are specifically designed to endure outdoor installation for many decades with proper maintenance. We install the finest quality materials available from our exceptional manufacturers including:
E. P. Henry
Blocks, Stones, Outdoor Living, Caps, Steps Borders Edges & Pavers
Allan Block
Retaining Walls, Courtyards, Raised Patios, Gardens, Terraced Hills
Techo-Bloc
Landscaping Stone, Pavers, Blocks, & More With a Lifetime Warranty
Learn more about our raw material manufacturers by browsing their websites to learn more about the quality of materials that we use, why we deal only with the world's finest producers, and how to select the most appropriate building materials for your hardscaping project according to your personal preferences, as well as the durability of the materials.  Check out some of our Hardscape projects below:
We Ensure the Full Extent of Your Warranty
Shaylor's Ponds & Patios is certified to install all of the products manufactured by our suppliers to ensure that you will be able to access all pertinent warranties to the full extent. In addition, we also guarantee the integrity of all of our work, so you are fully protected when you select Shaylor's Ponds & Patios as your hardscape installation contractor.
Attractive Patios, Retaining Walls, Fire Pits, Driveways and Walkways
Some of the most popular hardscaping projects that Shaylor's Ponds & Patios designs and installs for our valued customers include:
Retaining Walls
Patios
Raised Entertainment Platforms
Outdoor Living Areas
Fire Pits
Gardens & Garden Enclosures
Borders
Edges
Transitional Areas
Paved Walkways
Courtyards
Driveways
Walkways
We are able to offer you an extensive range of material types, colors, and styles to choose from. If you have previewed the websites of our preferred manufacturers and have something else in mind, contact us. We will work with you to find a design and the appropriate materials to meet all of your needs.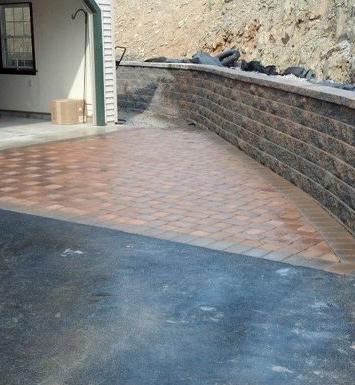 Hardscapes Constructed to Withstand the Test of Time
At Shaylor's Ponds & Patios, we are dedicated to constructing your hardscape project to withstand the test of time. Chad Shaylor has the extensive education, training, and experience to apply innovative construction techniques to ensure that your project enhances the curb appeal of your home or business today and well into the future. By insisting that each stone is laid properly and in accordance with universal building standards, as well as according to the mandates provided by each product manufacturer's precise installation instructions, we confidently provide you with the best materials installed according to time-tested methods. Thereby, we ensure that your project will endure for as long as possible.
Retaining Walls Constructed With the Knowledge of Generations
When we construct retaining walls, we apply all of the knowledge that has been passed down from generation to generation of builders to give your wall the best possible chance of remaining standing for as long as possible. When a structure is properly constructed and built with the best building materials available, it will endure. The pyramids of Egypt and the Great Wall of China are proof that superior materials and exceptional construction techniques make an undeniable difference for the longevity of your hardscape project. We apply our cumulative knowledge and every possible precaution to ensure that your wall will endure and serve its purpose for the duration.
Chad Shaylor has the training and experience necessary to install the hardscape of your dreams in accordance with universal building codes. We use only the strongest and most durable materials to ensure that you will have the most durable wall, terrace, patio, walkway, or other hardscape project possible. Call Shaylor's Ponds & Patios to learn more or schedule a personal consultation to discuss your needs: (570) 419-1518. To request a free quote, please fill out our contact form.