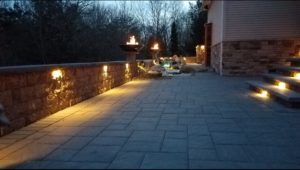 Do you ever have friends over for an evening party on beautiful, warm, summer evenings? Did you ever have to crowd inside a hot house when the sun started sinking in the west to finish your party because the darkness overtook you? Imagine sitting around and having a good time with you friends out on your patio or deck. The western sky begins to turn from blue, to orange, and as the sun keeps setting, it turns into a beautiful red glow. As you sit there watching the sunset, the warm glow of your landscape lighting comes to life. Let the party begin! Now your party is no longer cut short because the dark has overtaken you. Instead of crowding in a hot house, you can continue to enjoy the beauty of the outdoors in a whole new way.
With the busy lifestyle that we seem to have these days, the evenings are the only times that we get to sit out and enjoy our landscaping. Why not get more out of the money you spent on landscaping by installing some landscape lighting around the house and patio area? Not only will it give you more time to enjoy your vacation at home, but it will give your house a whole new "look" as the soft lights light up the side of your house, trees, bushes, and cast a soft, warm glow on your patio and walkways. Landscape lighting may sound like a lot of work and maintenance to keep all those fixtures working out in the harsh elements, but with the new LED lighting, it cuts back on those problems immensely. LED lighting is simple to install, so you as a homeowner can easily do it yourself instead of paying the extra money to have a contractor come in and install it for you. LED lighting also saves you money from year to year. The LED lights last about 10 times longer than the standard halogen bulbs. No longer do you have to be out there changing bulbs every year. At the same time, LED lights save you money on your electric bill.  In comparison to standard halogen bulbs, LED lights use approximately 80-90% less electricity. Talk about savings!
Shaylor's is dedicated to helping you get the most enjoyment out of you landscaping projects.   Don't hesitate to stop by our  Business Center at 957 Dunkleburger Rd in Williamsport and check out our displays.  You can also check out some of our projects @Shaylors Ponds and Patios on YouTube or on our Facebook Page.